How on earth is Jennifer Aniston managing to keep her body looking so fantastic now that she is 50?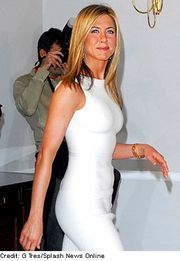 Jennifer Aniston has one of the most amazing natural toned bodies in Hollywood which has been proven by being named the Sexiest Woman Alive in 2011 by Men's Health magazine and FITNESS magazine's "most wanted body" of 2011. She also has her own Jennifer Aniston Eau de Parfum Spray. Unlike the skinny actresses that seem to be cropping up in films nowadays on weird celebrity diets Jen still maintains a natural toned body and healthy skin tone that many comment on after meeting her. There have been a lot of crazy reports on what the Jennifer Aniston diet is with the papers having printed:
"According to reports, Jennifer Aniston ate 14 portions of pureed baby food a day to lose weight".
Jen has denied the reports by saying
"Sorry, but the last time I had baby food; I believe I was 1, I've been on solids for about 40 years now."
So how has she managed to keep the aging process at bay and look so great?
Well I am afraid there is no quick fix here if you want to look and feel healthy and have energy you have to have an exercise regime and eat healthily, it's a simple as that… sorry.
Bikini scene from Just Go With It
Here we will go through the various types of exercises she uses and who her trainers are, including videos from them showing a selection of the routines. We then go on to talk about her diet and the types of food she prepares for breakfast, lunch and dinner, including snacks.
Jennifer Aniston Workout Plan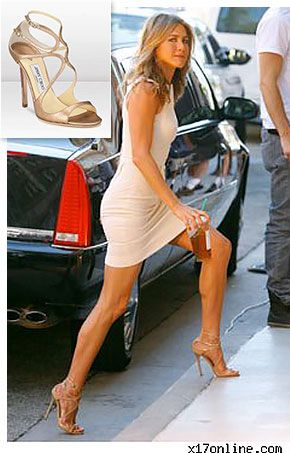 For that Jennifer Aniston body she exercises at least five or six times a week taking fitness equipment with her when she is away from home and always finishes the day with a set of stretches and sit-ups at bedtime.
"I work out almost every day, at least five or six days a week. I do 40 minutes of cardio: spinning, running, the elliptical, or a combination of all three. Then I do Pilates one day a week, and I do yoga in addition to that, three days a week. I try to mix it up," she told the US edition of InStyle magazine.

"I take 8lb [3.6kg] weights with me whenever I'm staying in a hotel. It's always good to do arm exercises when you're watching television or talking on the phone. I also love to stretch before I go to bed, and usually throw in a couple of sit-ups."
Jens yoga instructor is Mandy Ingber. To obtain her defined muscles, Jennifer Aniston's exercise program features yoga positions like planks (hold a pushup with out shifting your body to pay attention to the abs) as well as crescents (go in to a deep lunge, hold both hands together and reach directly over the body in order to improve your back) for approximately sixty seconds each. Her preferred pose is the tree pose.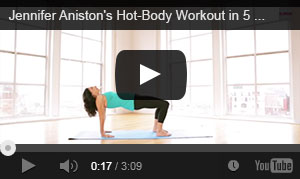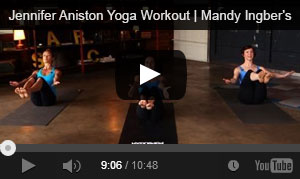 One of the martial arts styles she's taken up together with closest friend Courtney Cox is actually Budokon. Budokon is known as a physically demanding exercise program using facets of meditation as well as yoga exercises. Reported by Cameron Shayne, the actual creator of the program Budokon was created to "create balance and permanent change in the entire system, ". Budokon is really a yoga for martial arts and it is inspired by way of the Japanese martial arts – the name budokon is translated as "the way of the spiritual warrior" – bu (warrior) – do (way) – kon (spirit).
Bukodon is a four-way union of high-intensity cardiovascular exercise, low-impact techniques, strength work, as well as meditative techniques, all culminating in lean muscle without having bulk.
Jennifer Aniston Diet Plan
The staple of the Jennifer Aniston diet is the Zone Diet developed by Barry Sears its known as the 40 30 30 diet. It is built upon the principle that you should eat 40 % carbohydrate 30 % Fat and 30 % Protein each day.
An example of the Zone diet is:
40% Carbohydrate:
Fruits and vegetables
30% Protein:
Chicken, Turkey, Fish, Beef and Tofu
30% Fat:
Olive oil, Fish Oil and Avocadoes
Jens personal chefs are Jewels and Jill Elmore who have released a book called The Family Chef which Jen has written the introduction to saying 'BJ: Before ­Jewels', she lived on an assortment of 'prepackaged Zone meals, overcooked takeout and… the occasional piece of cheese'. They have taught her that the kitchen is not a place to store her power bars but a place to cook food in.
As normal the word 'diet' is being used incorrectly, it has become synonymous with changing you eating habits for a short period of time until you reach your target weight then going back to how you normally eat. The problem is the weight then goes flooding back on go back to your bad habits. The correct use of the word diet is to basically change your eating habits long term, and eat healthily. You can still eat rubbish every now and then just not all the time, its actually a good thing to eat bad food once a week it stops your body from storing it. You don't have to eat salads all day to loose weight, all you have to do is cut out the foods you know are fattening and a few you possibly don't know about like anything white which has to be bleached. Like white bread and white rice which have minimal nutritional values and your body just stores.
Jewels and Jills Food Philosophies
Starvation doesn't do the job, therefore balance would be the key element to help healthy living. Should you have a huge supper, then balance this by having a light dinner to make up for it. Balance heavy in addition to light foods during the day, and your weight is going to decrease.
Make vegetables the star of the meals – consuming one particular meal each day filled with leafy green vegetables will be the ideal solution to continue to keep trim. Make 75% of the dish vegetables, particularly green types along with the remainder can be a little protein or possibly a healthy grain.
A wide range is definitely the key element! Therefore experimentation with your vegetables as well as fresh fruit, look at different types as well as combinations.
Eating the A List Way – Tricks and tips
Include a bit of sparkling water whenever you happen to be preparing veggies by using merely a little bit of oil – this stops them from sticking, therefore only a dash of fizzy water can restore them!
Exchange breads for veggies – Jewels and Jill make delicious turkey burgers, that may be dished up inside large lettuce leaves as opposed to carbohydrate heavy buns!
Grate Vegetables and use rather then pasta – yellow and green courgette's, carrots may be slice in to slim ribbons plus coupled with a scrumptious pasta sauce – superb reduced carbohydrate meal.
Include delicious herbs or perhaps lemon and lime in your meal – this provides flavor with out calories.
Consume a number of Veggies initially in advance of your meat or carbohydrates – Jewels claims this may make a fantastic improvement to your health.
An illustration of Jens eating habits is as follows.
Breakfast
Whole wheat toasted bread along with apple butter, a large bit of cheese along with a cereal bar
Ginger peach shake, created using coconut water
Lunch
Salad which includes a several pieces of cheese, lentils, cucumbers plus tomatoes
Salad along with white beans, tomatoes, parsley along with chives or more green onions
Celery soup
Evening meal
White Fish cooked with nuts along with garnish of steamed green beans
Marinated salmon along with asparagus, shallots plus mushrooms
Chicken Burrito with out cheese or even sour cream (these are detailed within the book are optional, however Jennifer admits that a lot frequently refrain from them).
Even so she still craves Mexican food and eats it as a treat every now and then, she is even looked in to opening a Mexican restaurant in New York. She follows a high-protein, low-fat eating regime and complements her meals with omega-3-rich fish oil which can help improve your skin and hair, control weight, help your heart health and more. Anyone who works out on a regular basis knows about the benefits of omega-3 fish oil triggering the production of prostaglandins, which have an anti-inflammatory effect within the body which is great for the joints when working out.
We're the Millers Trailer 2013 Jennifer Aniston Movie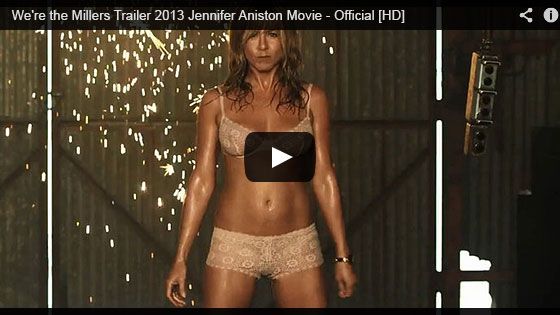 Although Jennifer obviously doesn't have a problem appearing nearly naked in her recent films, Horrible Bosses comes to mind and as you can see from the stripping scene in the above trailer for Meet the Millers, she did use an unknown body double for the dangerous stunts when in her underwear.
WATER, WATER, WATER. Just in case you missed that Water. Drink it, it washes out fat cells. Its the only way of ridding yourself of fat cells.
Although, the press are saying that she uses Eye Secrets which is a new product line that specifically targets your eye area to reverse the signs of aging.
Even celebrity makeup artists Lou Page and Lisa Valencia, admit that they use the Eye Secrets range with Demi Moore and Jennifer Aniston.
"Eye Secrets are an essential for my kit; they're easy to apply and are completely invisible. The celebrities were amazed at the results from using these ingenious little strips. The Eye Secrets Instant Eye Tightener looks cool in a mock syringe casing with sensational instant results. The Eye Secrets range is a hit with the whole cast who couldn't wait to get their hands on the products for themselves." – Lou Page
Lou, is very well respected and works with all the celebs!! Eye Secrets truly is the celebs best kept secret!
For more info on Eye Secrets with Michelle Collins
click the video below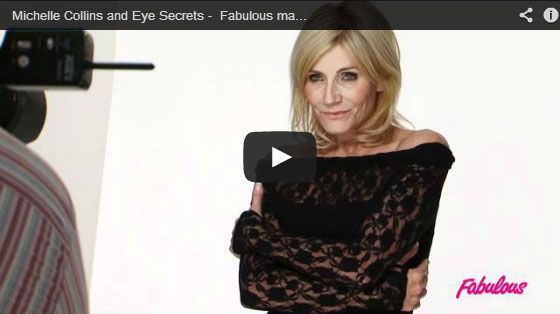 And finally
I hope the information about Jens' workout and diet has been interesting. If you think the article might be of interest to others please use the share links at the top of the page, you will also be helping us out.
Thank you for visiting the site, please feel free to check out our other celebrity diets and workouts, articles and reviews of various products that might be of interest to you.
We will be adding more diets and workouts so please check back soon.