What is the Tom Daley diet plan and workout routine and training he has used to get himself ready for the London 2012 Olympics?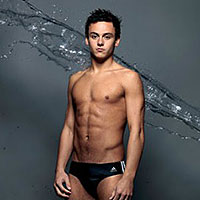 Below you will find a desciption of diver Tom Daleys diet plan and extensive training schedule he goes through to get in the best possible shape he can to compete with the top divers in the world, unfortunatley not leaving himself much time for a girlfriend or a social life but I'm sure he finds time somewhere, although he is rumored to be seeing US diver Kassidy Cook. With Tom Daley's workout routine giving him a maturing physique and with one of the highest google searches for Tom being "Tom Daley abs" if Tom Daley and Kassidy Cook are not seeing each other at the moment I'm sure with the teams of adoring fans that follow him around and on twitter, currently standing at 2,559,079 followers, it won't be long till he is seeing someone.
Tom Daley's morning training session
Tom gets up at about 7.30 in the morning and has Bran flakes, scrambled eggs on toast or beans. The iron in the bran flakes helps get oxygen in to your muscles which is a necessity when you have a heavy workout routine such as Toms.
After showing and breakfast Tom Daley goes to school between 9 and 10.15, then its off to the gym to warm up for the morning training session. As with any workout or training session he starts out with stretches and in the past warmed up with a game of "wall-tennis" with his coach which is essentially squash using your hands. Once sufficiently warmed-up he'll start practicing somersaults and working on his take-offs and flips from a block into a crash mat. Then moving on to the trampoline doing somersaults and flips.
The Team GB divers preparation camp
Including a work-out session in the dry training area.
Then comes the strength and body building part of his workout along with core strengthening exercises like the plank and static pushes. Static pushes consists of contracting the abdominal muscles for 10 – 30 seconds without any joint movement. It looks easy but I promise you its harder than you think.
To combat the strain the forearms go through when hitting the water at roughly 35 MPH Tom does dumbbell wrist curls to strengthen and build up his wrist and forearms. To build up and strengthen his shoulders Tom uses a Thera-band doing lateral raises and overhead extensions.
Before finishing the morning training session Tom will do post workout stretches then an hour of diving practicing take-offs and entries form the lower 1, 3, and 5m boards, along with handstands. To keep him going Tom Daley will normally have a cereal bar chocolate milkshake in his diet plan and some fruit then every now and then he'll have a massage and ice his triceps.
[randomtext category="phen375main"]
At 1pm Tom will relax for an hour and have a standard post workout protein lunch consisting of chicken and jacket potato helping the muscles to recover and build.
Then its back to school until dinner at 4.30 made up of chicken again and steamed green vegetables and some form of complex carbohydrates like brown pasta, brown rice of sweet potatoes.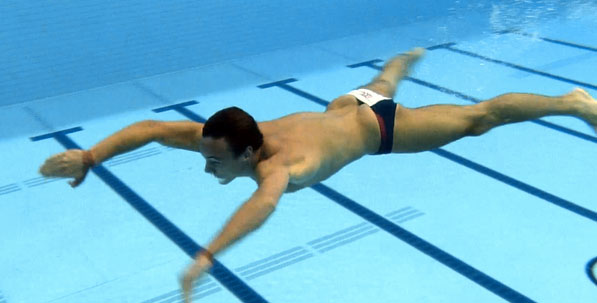 One of the highest search terms for Tom at the moment is "Tom Daley Butt
"
Tom Daley's afternoon training session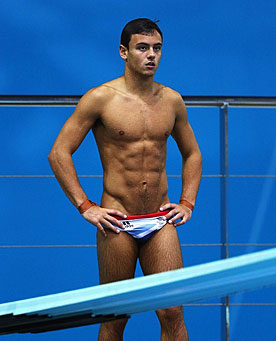 ©flickr
The afternoon training session starts at 5.30 and the first couple of hours is spent at the gym building up strength doing press ups, pull ups, squats and dead lifts all with gradually building weights.
Just after 7 its up to the 10m board for a couple of hours of diving working on form, takeoffs, entries and the handstand takeoffs. At 9 its another snack to replenish his energy levels and carbohydrates consisting of chocolate milkshake, toast and sometimes sweet potatoes again with steamed vegetables. Then post workout stretches and warm down to relieve the lactic acid that has built up in the muscles. The whole day ends at 10.30 when Tom goes to bed and like anyone else who works out he needs to get as much sleep as possible for the body to repair itself.
Throughout the week diver Tom Daley will also do a lot of swimming for the cardiovascular part of his workout. At weekends he will train on a Saturday morning between 9am and 12noon then have the rest of the weekend off until monday morning when it all starts again. Inbetween all of this hard work and training Tom Daley has to fit in media commitments and advertising contracts which have reportedly brought in a net worth of $2m, not bad for the 18 year old from Plymouth, England.
If you are interested in getting a body like Tom Daley
check out the video below:
If the The Tom Daley Diet and Workout Routine has been helpful to you please use one of the share links like Facebook.