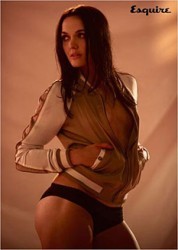 Multi olympic cycling medallist Victoria Pendleton, MBE is one of the greatest sporting athletes Britain has ever produced. Here we take a look at Victoria Pendletons Training Regime and Diet.
To stop herself snacking thoughout the day she will have a fibre rich breakfast like a couple of slices of wholemeal toast with peanutbutter and slices of banana, this will help her feel fuller for longer. She does carry healthy snacks with her through out the day so she doesn't just grab something bad from what ever she is at the time.
Cyclist Victoria Pendleton really struggles with putting on weight with her diet even though her nutritionist keeps telling her to put on increased muscle mass she finds it hard to eat a massive lunch then head out on to the track for a training session and pushing herself to the maximum.
For lunch, Victoria will have a sandwich (with cheese or chicken and salad) followed by a piece of fruit and a yogurt. There just isn't enough time for the food to digest. To combat this and to gain enough energy for her training regime she takes a lot of supplements with her diet including protein shakes and high carbohydrate drinks like Gatorade. Having a nutritionist ensures that she gets enough of the correct daily amount of calories and to help her release energy she has to get her B Vitamins.
Victoria Pendleton FHM
[wowslider id="10″]
Like Jessica Ennis she can eat almost anything she likes because her workout routine is so extensive she will burn it off. Although she does mainly stick to healthy foods she has got a sweet tooth and loves to bake and well once you've made it you have to taste it she says. With chocolate being the standard recovery food for any athletes post recovery she will always have something chocolaty for dessert.
For dinner Victorias diet will often have something nice like a Moroccan chicken dish with cous cous. As most people confuse de-hydration with hunger Victoria drinks water throughout the day to keep herself hydrated.