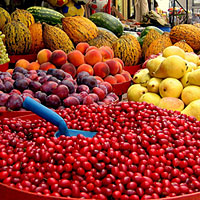 I'm afraid the old adage "we are what we eat" is true. For your body to work efficiently, have energy and ensure healthy skin hair and organs you need to eat the right foods containing vitamins, proteins and fats along with a good exercise regeme like Jennifer Anistons personal trainers Yogalosophy by Mandy Ingber. Now that's not to say you can't have your favourite Mexican meal every now and then, but if you eat correctly most of the time your body can break down the bad foods more efficiently.
We all recognise that what we consume could aid us in preventing specific illnesses. Day in and day out in the media we see people that are unwell because of their diet or deficiency of diet. People tend to be at risk of illness since they do not have the correct foods in their diet. Most people go about their lives eating what they want then visit a doctor when they get ill and taking pills. We all know the best cure for a hangover is fluids and food rather than a pain killer pill, it's common scence. Too many people think of health as something they get from their doctor rather than just eating healthy food full of the natural drugs to help the body function in an efficient manner the way it is supposed to.
The body is a self healing device so let it do its job and reap the benefits in energy and appearance. It's not all about the internal organs working better your skin will glow your hair will shine and you'll loose the fat that has built up over time. Eating healthy foods in conjunction with a fat burners and exercise you'll be leaner, happier and have a much more fulfilling life, not bad for just eating correctly. You have to eat anyway why not eat better.
Apples
One of the super foods apples are loaded with vitamins A, B1, B2 B6 and C and minerals calcium, magnesium, phosphorus, potassium and sodium They lower cholesterol and have anti-cancer properties.
Broccoli
Vitamins A, B, C and E cancer-fighting photochemicals, folic acid, iron potassium, riboflavin. Good antioxidant and promotes healing.
Oranges
Calcium, folic acid, iron, potassium, thiamine, Vitamins B6 and C. Antioxidant lowers blood cholesterol.
Onions
Quercetin – a potent antioxidant. Anti-bacterial, anti cancer, antioxidant, circulatory, digestive stimulant, lowers cholesterol.
Carrots
Beta-carotene, Vitamins A, B and C, Folic acid, magnesium, potassium, iron and calcium. They have a cleansing effect on the liver and digestive system. Great antioxidant, anti-cancer, antiseptic, diuretic, immune booster, anti-bacterial, helps lower blood cholesterol, aids eye and skin problems.